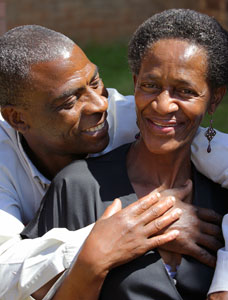 Ed has been married for 11 years to his second wife, Maria. Lenore has been dating her boyfriend for 8 months. Robert is afraid his partner will leave him. Sarah wants to have a baby with her husband.
What do they all have in common? Kidney disease.
Sexuality and having children are central to many people's relationships and lives. So when you learn that you have kidney disease, some of the many questions you have may include: how will this affect my relationships? Will my partner stay with me? Will anyone new want me when I'm not "perfect"? Can I still have children?
These are important questions, and it is often hard for us to talk freely about them. We may have been taught never to discuss religion, politics, or sex in polite company. Some of us were raised not to talk about sex with others—even those we're closest to.
You don't have to talk to anyone about what you learn here. But we hope that when you're done, you'll want to share your questions or concerns with your health care team and your partner.
Take the Kidney Quiz!
You'll have a better sense of how much you've learned from this module if you take our quick kidney quiz. It's just 10 questions. How about it?
In the first part of this module, we'll cover issues of sexuality and kidney disease, including:
Feeling good about yourself
Kidney disease and body image
Fatigue and lack of desire
Communicating with your partner
Sexuality and fertility
Pregnancy in women with kidney disease
Special information for parents of children with kidney disease
So, let's get started!
Sexual Relationships
Just as in the general population, people with kidney disease can be heterosexual, homosexual, or bisexual. Your health care team will provide the same level of care regardless of your sexual orientation. You can choose whether to talk about your sexual orientation with your health care team. Your social worker can answer questions about sexuality.
Although many people with kidney disease are married or in relationships, you may live alone because you are widowed, divorced, or because you never married. If you want to meet other single, widowed, or divorced people, your social worker may be able to suggest groups in your area.
You bring your personality into any relationship, so remember, you are still you even though you have kidney disease. On the other hand, you may be happy without a partner and have plenty of friends and activities to keep you busy and happy. Just don't isolate yourself. Studies have shown that having a social network helps people do better with any chronic illness, including kidney disease.