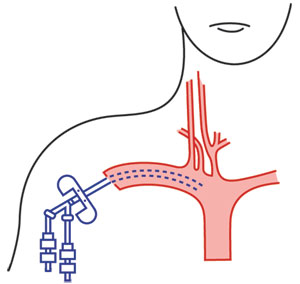 Catheter
The third type of vascular access is a central venous catheter. A catheter is a plastic tube that is surgically placed in the neck, chest, or groin, and connected to a "central" vein. The other end of the tubing is outside the skin and used for hooking up to the dialysis tubing.
Most catheters are temporary, used for weeks or months at most. They are mainly for short-term use, until a graft or fistula is ready. Some patients, however, have a catheter as a permanent access. If a catheter must be used, the type can be important for your future access options.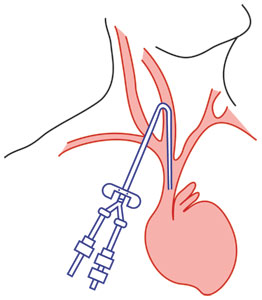 The KDOQI guidelines cover catheter use in dialysis. These guidelines say the internal jugular (IJ) catheter is the preferred type. Here's why. When a central venous catheter is used, it can reduce blood flow to the arm on that side of the body. This can make those arm vessels impossible to use later for dialysis. IJ catheters are less likely to harm blood vessels than another type of catheter, the subclavian. The IJ catheter can be placed so it comes out on the chest and can be hidden by shirts.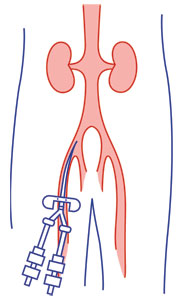 Sometimes, a femoral catheter is used for temporary access. This catheter is placed into the femoral vein, in the groin. The femoral catheter is usually removed after each treatment and replaced for the next—an uncomfortable prospect. Plus, being so close to the groin, the femoral catheter is hard to keep germ-free. If your doctor suggests a femoral catheter for temporary vascular access, ask if there are other options that would work for you. Of the three types of vascular access (fistula, graft, catheter), the catheter is the poorest option because:
Blood flow rates are often poor, so it is hard to get enough dialysis to feel your best.
It extends outside of the body, so it is the most prone to infection—and it is so close to the heart that infections can be serious.
Catheters are very likely to clot.
What Catheter Placement Feels Like
Here's what people with catheters say about having a catheter put in:
"The vascular surgeon gave me a permanent catheter—the one that hangs out at my chest, tunneled up and stitched in under my skin at my neck. It was done under Versed® and was mildly sore the first day, and after that it didn't bother me at all. It was easily hidden by my shirt and I could even sleep on my stomach with it. I eventually got a systemic infection from it and spent a week in the hospital."
"My Tessio™ catheter, which is a tunneled-cuffed catheter put in the chest area, only required one incision and I was given some Versed®, which just puts you down a little bit and relaxes you. The sensation was not one of great discomfort, but like someone pressing repeatedly on the chest area as the catheter is moved toward the neck. This lasted several months and never gave me any problem."